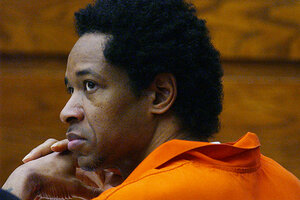 Davis Turner/AP/file
2.

The D.C. sniper: 'Call me God'

The coldblooded sniper killings of 10 people along the East Coast in the fall of 2002 shook America to its core. John Allen Muhammad and his teenage conspirator, Lee Boyd Malvo, had begun their spree in Louisiana and Alabama and ended it in the metro D.C. area. Their ultimate goal, Mr. Malvo later testified: "to set up a camp to train children how to terrorize cities."

As they eluded capture, and while police searched for a white van, Mr. Muhammad and Malvo left cryptic messages, including a tarot card with the phrase "Call me God" on it. Muhammad also boasted of his exploits in a phone call to police from a pay phone.

As investigators got closer to the identities of the snipers, they were at one point shocked to realize that officers had checked the license plate of Muhammad's blue 1990 Chevrolet Caprice several times. But the checks weren't flagged because there were no outstanding issues with the license plate and authorities were at that point looking for a white van.

The pair were captured on Oct. 24, 2002, sleeping in their car off Interstate 70 in Maryland. Montgomery County Police Chief Charles Moose has never explained the message he relayed to the sniper four hours before the capture: "You have asked us to say, 'We have caught the sniper like a duck in a noose.' We understand that hearing us say this is important to you."