Jack LaLanne remembered: five of his amazing feats
Jack LaLanne, the 'Godfather of Fitness,' died on Sunday at the age of 96. He often marked milestones by putting his fitness and athleticism to the test. We remember Jack LaLanne by looking back at his five most amazing feats.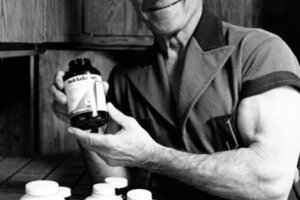 AP/File
5.

1,033 push-ups in 23 minutes

• 1956, age 42

Jack LaLanne liked to show off his physical prowess on television. In 1956, he set a world record for pushups, doing 1,033 in 23 minutes, on the program "You Asked for It." Mr. LaLanne's own fitness program, The Jack LaLanne Show, went national the same year.