Remembering space shuttle Challenger: Five ways it changed spaceflight
Twenty-five years ago Friday, the space shuttle Challenger came to a tragic end, exploding on liftoff and claiming the lives of seven astronauts. We remember the loss of the Challenger and its crew, yet we often forget the contributions it made to space exploration.
The night of the disaster, President Ronald Reagan told the nation: "The Challenger crew was pulling us into the future, and we'll continue to follow them." Here are five ways the Challenger pushed spaceflight forward.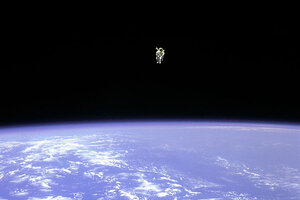 NASA
1.

Free space walk

Challenger crew members Bruce McCandless II and Robert Stewart made the first free spacewalks in 1984, using a jetpack-like device called the manned maneuvering unit. Though no longer in use, these units allowed astronauts greater freedom and maneuverability, freeing them from being tethered to the shuttle. In 1985, the crew used the manned maneuvering unit to repair a malfunctioning satellite, at a cost of $50 million. This was a bargain, considering replacing the satellite would have cost about $250 million.