How Mideast turmoil affects oil prices. Six questions answered
From the first spark of Middle East unrest in Tunisia in December until the violent suppression of protests in Libya in late February, the price of a barrel of crude oil rose from $88 a barrel to more than $100. But rising demand – from oil-hungry China and other fast-growing nations – was pushing prices up even before the turmoil. How much prices rise depends largely on whether supplies flow unimpeded from the Middle East. Here's a rundown on oil supply-price issues affecting the US.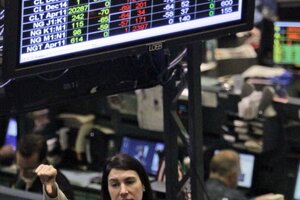 AP Photo/Mary Altaffer
1.

How much oil does the US get from Tunisia, Egypt, Bahrain, Libya, and other Arab nations that have seen unrest this year?

About 1.7 million barrels per day of what the US imports (a net of 9.7 million b.p.d. in 2009, according to the Energy Information Administration) comes from the Persian Gulf, mostly from Saudi Arabia, which supplies about 1 million b.p.d. Kuwait supplies about 182,000 b.p.d. In North Africa, Algeria supplies about 493,000 b.p.d.

The nations involved in the upheaval, however, supplied very little to the US. Tunisia, for instance, supplied about 260,000 barrels in all of last year. Libya supplied next to nothing to the US directly, according to the US Department of Energy, although it supplies about 2 percent of the world's needs overall. So instability there has a ripple effect on the US and Europe, which buys a lot of Libyan oil.