Japan nuclear plant in state of emergency, as cooling power runs low
A nuclear plant in Japan is said to declare a state of emergency, as backup power used to cool three reactors runs low. Help is on the way. 'It's a dicey situation,' says nuclear specialist in US.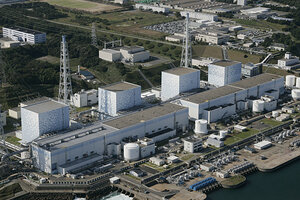 Kyodo News/AP
At least 11 of Japan's 52 nuclear power reactors are shut down and three of those may pose a danger to the public after a massive magnitude 8.9 earthquake hit the island nation Friday. One plant, 150 miles north of Tokyo, is reported to be in a state of emergency. It is relying on limited battery power to cool the three problematic reactors, and officials say they plan to release some radioactive gases to the atmosphere to cope with the problem.
The Japanese government issued an evacuation advisory to people living within a 3-kilometer (1.8-mile) radius of the Fukushima 1 nuclear power plant, according to Japan Broadcasting Corp.'s NHK World website.
Tokyo Electric Power Co. says an equipment failure had made it "impossible to cool two reactors" at the Fukushima 1 plant. Air that may contain radioactive materials will be vented from the plant, the company told NHK World late Friday. The decision to release the gases was to avoid the breakdown of the reactors, the news agency reported. Tokyo Electric told NHK World that the release would be small and that the company will notify residents near the plant before it starts the release and will monitor the amount of radioactivity in the gas.
The company reported that its power plant lacked sufficient electricity to cool the reactors, which automatically stopped operating when the quake struck, NHK World reported. Six reactors are inside Fukushima 1, and three were already offline prior to the quake.
But the quake knocked reactors 1, 2, and 3 offline. Then, about an hour after the quake, the diesel generators that provide emergency power for the cooling system on the reactors failed – putting the system on a battery backup system. Uncooled, a reactor's uranium core can overheat to the point of meltdown, and in a worst case become an event like the 1986 Chernobyl disaster in the Ukraine region of the former Soviet Union, which spread radiation across much of Europe.
Apparently in "a blackout condition," the plant is relying on a Reactor Core Isolation Cooling System backup, which needs batteries for valves, gauges, and instruments – and is reported to have about an eight-hour capacity, says Edwin Lyman, a nuclear specialist with the Union of Concerned Scientists in Washington.
At the time of writing, reactor pressure was said to be rising to dangerous levels inside the Fukushima plant's No. 1 reactor and might require venting [which would that release radiation], and water levels in reactor No. 2 were reported to be dropping [which causes the reactor to overheat], says Dr. Lyman. Failure of the cooling system can lead to a meltdown [of the reactor core], in which fire could release harmful levels of radioactivity into the environment.
"They're operating on battery power now, and if they lose the batteries, they lose core cooling," Lyman says. "The [Japanese] military is supposed to be ferrying in batteries now, but it's a dicey situation."
The military and other authorities are sending power generators to the site, NHK reported. The government characterized the evacuation of residents near the plant as a precaution, and it also asked people living within 10 kilometers (6.2 miles) of the plant to stay indoors, NHK said.
"The government's Nuclear and Industrial Safety Agency says cooling system failure has made it impossible to cool the second reactor after it automatically stopped operating after the earthquake," NHK reported Friday. "The plant has been declared to be in a state of emergency after the quake caused the technical failure."
As is the case in the United States, Japan has requirements that call for nuclear power plants to be able to withstand a serious earthquake. Seismic rules for nuclear plant construction are slightly different from those in the US, but, like the US, fall into two major categories, says Charles Becht V, a senior engineer at Becht Engineering Co. in Liberty Corner, N.J., which has done consulting work in Japan.
First, there is the "operating basis earthquake ground motion," or OBE – quakes that can be expected to occur multiple times in the life of a plant. When such an earthquake occurs, plants are shut down and inspected.
A "design basis earthquake," or DBE, is one so big that it would be expected to occur only once in the life of a plant, Becht explains in an e-mail. The DBE design requirement for a plant simply "requires that a plant can shut down without release of radioactive material.
"Extensive damage is still expected with significant inspection being required for any restart," he writes. "In general, a significant number of systems can become faulted in a nuclear power plant without containment [of radiation] being compromised."
Constructing a nuclear power plant so that it can ride out a major earthquake without damage is possible, but such practice is not widespread, says Michael Constantinou, a civil engineering expert at University of Buffalo, State University of New York, who has studied the issue. Just three plants in the world – two in France and one in South America – use shock absorbers to physically isolate the reactors from surrounding ground movement.
The Nuclear Energy Institute in Washington, a trade group, has been monitoring Japan's nuclear industry website and gathering other information. "From what I understand, they have been able to cool the Fukushima No. 2 reactor with no danger of fuel being exposed [to the air]," says spokesman Mitch Singer. The group characterizes the situation in Japan as safe and stabilizing.
"The most important thing is that the Japanese have it under control," says Mr. Singer. "The emergency shut-down procedures worked as planned. The coolant level may be down, but it's still within the safety margin." He acknowledged that pressure is reported to be rising in the No. 1 reactor but had no further information.
Earlier, a fire was reported in a turbine building of Tohoku Electric Power's Onagawa nuclear plant, which was contained, the Kyodo news agency reported and Mr. Singer confirmed.
President Obama told reporters at a press conference that the US would help Japan if asked and said he was certain that "if in fact there have been breaches in the safety systems of these plants, that they will be dealt with right away."
The Japanese experience highlighted concerns Union of Concerned Scientists has about the adequacy of backup power and other safety systems at the 104 nuclear power reactors across the US, Lyman says. The group backs nuclear power as one option to help combat climate change, but has concerns about plants' safety.
"We do not think safety standards for US nuclear reactors are enough to protect the public today," he says in an interview.
The US Nuclear Regulatory Commission said its standards are sufficient.
"Nuclear power plants are built to withstand environmental hazards, including earthquakes and tsunamis," the NRC said in a press release. "Even those plants that are located outside of areas with extensive seismic activity are designed for safety in the event of such a natural disaster."
After the quake in Japan, the NRC said it is monitoring the two nuclear reactors at the Diablo Canyon Power Plant, located on the coast near San Luis Obispo, Calif., because of the West Coast tsunami warning Friday morning.
"The NRC is closely monitoring this situation as it unfolds with respect to nuclear facilities within the United States. NRC staff is working closely with its resident inspectors who are on site to ensure safe operations," said NRC Chairman Gregory Jaczko, in a statement.
Both Diablo Canyon reactors are stable and both units remain on-line. The plant is "well protected against tsunami conditions as required by NRC regulations" and has NRC staff on site to track its response.
Events in Japan could have a negative impact on American attitudes as the nuclear power industry in the US pushes for a "nuclear renaissance" and more non-greenhouse-gas-emitting power sources, some energy analysts said.
"Nuclear power's status as a 'clean fuel' could be compromised," writes Kevin Book, senior analyst for CleanView Energy Partners, a Washington energy markets research firm. "Although events in Japan may actually validate the safety of nuclear power despite a severe earthquake, energy accidents that can reach well outside the immediate sites of production carry a significant political 'fear factor.' "