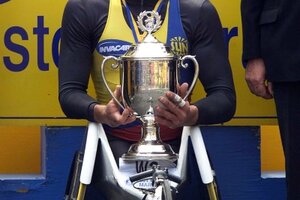 Timothy A. Clary /AFP/File
2.

First wheelchair competitor (1975)

Bob Hall broke ground as the first person to compete in a major marathon from a wheelchair. On April 21, 1975, Mr. Hall, who had contracted polio as a child, finished with a time of 2:58.

The wheelchair field expanded in 1977, after it was declared the National Wheelchair championship. Hall competed against seven others, besting his rivals and improving his time to 2:40. Ernst Van Dyk of South Africa is the current world record holder for a wheelchair marathon, with a 2004 time of 1:18. Since 2001, he has won nine Boston Marathons, but lost his bid for a 10th Monday.