Five reasons the S&P downgrade isn't so bad – and one word of caution
If the Standard & Poors downgrade of US debt from AAA to AA+ worries investors enough, the US may be forced to pay higher interest on its debt, which could affect interest rates across the economy, from mortgages to car loans.
But for now, economists say, the economic impact of the downgrade will likely be minimal and US Treasury bonds will continue to be the investment vehicle of choice for American and overseas investors.
"Despite the drop in the rating and the fact that the US economy is going through a fiscal crisis, it's still one of the safest places to invest," says Farhad Saboori, an economist at Albright College in Reading, Penn.
Here are five reasons why the downgrade isn't as bad as it seems, and a reminder not to take it too lightly: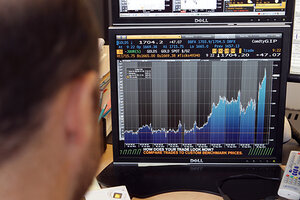 Michel Euler/AP
1.

It will force Washington to get America's debt under control

In a July 14 report, the S&P laid out conditions for preventing a downgrade, including a $4 trillion deficit reduction over 10 years. Washington's recent debt deal accounts for only $2.1 trillion to $2.4 trillion over 10 years.

The downgrade is a warning from S&P to Washington to reach a deeper set of deficit-cutting measures to avoid a further downgrade or a ratings drop from another ratings agency – either of which could more seriously hurt the US economy.

According to the S&P's own statement, the downgrade primarily reflects a lack of confidence in policy makers. "More broadly, the downgrade reflects our view that the effectiveness, stability, and predictability of American policymaking and political institutions have weakened at a time of ongoing fiscal and economic challenges to a degree more than we envisioned," the S&P said in a statement.

It appears Washington has gotten the message. President Obama said Friday that the government faced a downgrade, "Not because we didn't have the capacity to pay our bills – we do – but because we didn't have a AAA political system to match our AAA credit rating."