Holiday shopping online: How to avoid the '12 cyber scams of Christmas'
With more Americans turning to the Internet for more of their holiday shopping needs, good cybersecurity is vital to avoid a raft of scams – from promises of "free iPads" to "holiday screensavers" that install malware on your computer. To shop safely, it's wise to avoid what might be called the "12 cyber scams of Christmas." They include: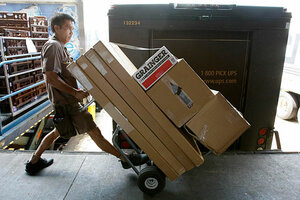 Hyungwon Kang/REUTERS/File
1.

Phony e-mails from UPS

'Phishing' is all about fooling online consumers into revealing information or clicking on links they wouldn't normally click on. Normally, it involves tricking them with social media posts or phony e-mails that appear to be from a trusted friend.

During the holidays, scammers tailor their e-mails and social messages with holiday themes in hopes of tricking recipients into revealing personal information, McAfee reports. One common phishing scam is the "phony notice from UPS, saying you have a package and need to fill out an attached form to get it delivered," the company says. "The form may ask for personal or financial details that will go straight into the hands of the cyberscammer."