Holiday travel: why airports will be a little emptier this year
The airline industry expects about 20,000 fewer people per day to fly this holiday period – not good news for an ailing industry already hurting from volatile fuel costs.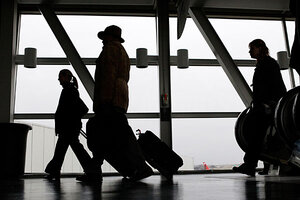 Amy Sancetta, file/AP
The airline industry said Tuesday it expects about 20,000 fewer people per day to fly this holiday period.
But, forget about trying to change your seat from the middle to the aisle. The airlines have already cut the number of flights or scaled the size of the airplanes to reflect fewer travelers this holiday period.
About 43.3 million people will take to the air during the critical 21 day holiday period, down about 1 percent from last year, according to Airlines for America (A4A), an industry trade group. The industry expects the decline in air travel to continue through to the spring.

Recommended:
In Pictures
Going Nowhere
According to John Heimlich, chief economist for A4A, the main reason there will be fewer travelers are economic, such as declining disposable personal income, a drop in household net worth, and higher energy prices.
However, the airline industry, responding to cost pressure, has increased fares about 10 percent over last year.
But, on some routes, it's a lot more, says Rick Seaney, the CEO of CompareFare.com, a website that tracks airfares. "The area where the rates have gone up the most are the mid and long haul routes," says Mr. Seaney. "So if you are flying from San Francisco to Las Angeles, the rates are not up much, but if you are going to Chicago, Houston or New York [from San Francisco], they are up about 15 percent to 16 percent."
Seaney notes that the airlines have tried to raise rates 22 times so far this year but only 9 of the rate hikes have been successful. However, this is better than last year when they were only successful at raising airfares three times in a row, he says.
Of course, passengers are used to seeing fares rise during the holidays. Seaney says that has been the trend for some time. "It's like playing Monopoly, during the holidays they have Boardwalk and Park Place," he says. "The only two times of the year they have that kind of pricing power is the holidays and spring break."
The decline in holiday travel this year follows a drop of about 2 percent in air travel during the Thanksgiving period. But the drop is still relatively modest compared to a 5 percent drop in air travel in all of 2009 (versus 2008) because of the recession.
With fewer people booking flights this holiday period, the airlines are coping by cutting the number of flights. "They are cutting back and using smaller aircraft," says Kenneth Button, an expert on the industry and a professor at George Mason University in Arlington, Va. "Even though they are cutting back on flights it should not be that noticeable for consumers except for fuller flights."
Indeed, Heimlich says planes this holiday period should be running at about an 85 percent load factor on the busiest days. According to A4A, the busiest time period will be between Dec. 21 to Dec. 23, Dec. 26 to Dec. 30, and Jan. 2 to Jan 3.
Despite the increase in fares and the high number of seats filled, Mr. Heimlich says the industry's profit margin remains small – about 1 percent.
"This story is about higher costs outpacing higher revenues, leading to thinner profit margins," says Heimlich.
For most of the airlines, aviation fuel remains one of their most volatile expenses. According to the International Air Transport Association (IATA), using the average fuel price, the airline industry has paid almost 20 percent – some $60 billion – more than it did last year.
With fuel costs so much higher, losses for some airlines are mounting, says Mr. Button, "Some of the airlines are making huge losses, and despite the higher prices, they are not making huge profits," he says. "Their operating profit for the last thirty years has been zero."
In the case of American Airlines, profit margins have been non-existent. At the end of November, the carrier declared bankruptcy in an effort to restructure its labor contracts and debt. Despite the filing, American is continuing to operate normally this holiday period.    
Heimlich says the major snow storm that is affecting the Great Plains does not appear to be adversely affecting the major airlines. "There does not appear to be much of an impact on the large hubs," he says.