Border bunglers: 10 odd smuggling attempts foiled by US agents
Smugglers are known for their ingenuity in getting drugs across the US-Mexico border. But illicit drugs are just a few of the illegal products – from the exotic to the mundane – that people attempt to sneak into the US everyday. Here are 10 examples of creative ways people tried to sneak something past Customs.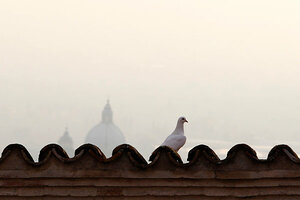 Giampiero Sposito/REUTERS/File
1.

Drunk birds

Birds of all feathers often capture unwanted attention at the border. To subdue the creatures, people sometimes give them alcohol or medication. Not long ago, a woman nestled four doves inside her jacket as she walked past customs inspectors, who intercepted the flock. Maybe the empty bird cage in her hand gave the woman away.