Javascript is disabled. Quiz scoring requires Javascript.
2012 enters the record books. Were you paying attention? A news quiz.
The year 2012 brought no shortage of significant news, from scheduled political transitions in the US and China to unexpected tragedies, moments of human triumph, and more record-setting in the realm of social media.
It's gone by quickly. Were the London Olympics really just a few months ago? Test your knowledge of these events with the Monitor's 2012 news quiz.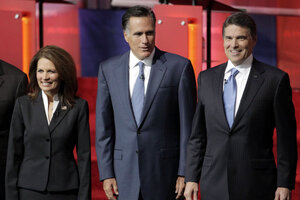 Jae C. Hong/AP/File
1.

Which of these Republican presidential hopefuls never led the pack in the RealClearPolitics poll average during the primary season?