Tropical storm Bertha tracks across Caribbean. Where it heads next.
Tropical storm warnings are up for Puerto Rico and the US and British Virgin Islands, but Bertha is expected eventually to curve away from the US East Coast, leaving rough surf in its wake.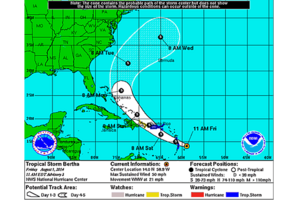 NOAA
Tropical storm warnings were posted Friday for portions of the Windward and Leeward Islands in the eastern Caribbean, for the US and British Virgin Islands, and for Puerto Rico heralding the approach of tropical storm Bertha, which developed overnight from a low-pressure system that had been building and growing more organized east of the islands.
Forecasters also have issued a tropical-storm watch for the eastern end of the Dominican Republic.
Based on the currently forecast track, the storm poses no direct threat to the US East Coast, although it could trigger rough surf conditions along the Southeast coast early next week.
At 11 a.m. Eastern Daylight Time, Bertha was located 133 miles east of St. Lucia with maximum sustained winds of 50 miles an hour.  Tropical-storm-force winds extend out to 115 miles from the storm's center, largely to the northeast.
Bertha is expected to drop from one to three inches of rain over several of the Leeward Islands it encounters, as well as on the US and British Virgin Islands. Some isolated locations could see up to six inches of rain.
Rainfall amounts are expected to be higher for Puerto Rico, where totals of three to six inches are forecast – up to 10 inches in some spots.
These rainfall amounts raise the prospect of floods or flash floods, in addition to wind damage and rip currents along the coasts, forecasters say.
The current forecast track from the National Hurricane Center in Miami has Bertha crossing the Leeward Islands overnight Friday to Saturday and crossing over the western end of Puerto Rico Saturday.
As it crosses over Puerto Rico, the center of the storm also is expected to flirt with Dominican Republic's east coast and with the Turks and Caicos Islands on Sunday before it tracks east of the Bahamas.
By Tuesday and Wednesday, the storm is expected to swing northeast, keeping it well away from the US coast. By Wednesday morning, forecasters expect the storm's center to have reached a spot some 290 miles north of Bermuda.
Forecasters note that it's possible Bertha could weaken into a tropical depression within the next 48 hours. Large-scale wind patterns are generating disruptive wind shear – a change of speed or direction with altitude. And the winds are bringing dry air to the storm, depriving Bertha of some of the moisture that fuels it.
Beyond 48 hours, conditions could improve from Bertha's perspective, restoring it to tropical-storm status.
Bertha is the second named storm to appear during the 2014 Atlantic hurricane season. Seasonal forecasts by several groups have projected a season less active than normal, thanks in no small part to a budding El Nino in the tropical Pacific. El Nino conditions tend to suppress hurricane development in the Atlantic because these conditions tend to enhance wind shear there.
Still, the season is in its infancy. The highest levels of hurricane activity tend to appear between late August through September. The season runs June 1 through Nov. 30.