Time capsule buried by Paul Revere, Samuel Adams sees light of day (+video)
The time capsule is thought to contain coins dated between 1652 and 1855 and an engraved silver plate, among other things. The box will be X-rayed Sunday, and then officials will determine when to open it.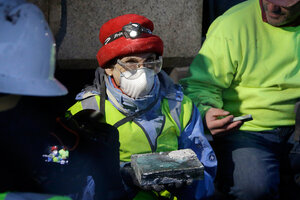 Stephan Savoia/AP
The time capsule that was carefully dislodged from the cornerstone of the Massachusetts State House Thursday is 219 years old – thought to be the oldest in the state – and yet the world will have to wait a little longer to see how well its contents have stood the test of time.
In 1795, Gov. Samuel Adams, patriot Paul Revere, and William Scollay, a militia officer during the Revolution, buried the small box during a ceremony that started at Boston's Old State House and proceeded to the grounds of what's still known as the "New" State House. In 1855, the time capsule – then a baby, really, at 60 years old – was briefly unearthed during emergency repairs, and more items were added.
The box is thought to contain coins dated between 1652 and 1855, an engraved silver plate, newspapers, a seal of the Commonwealth of Massachusetts, cards, and a title page from the Massachusetts Colony Records, says Meghan Kelly, a spokeswoman for the state's Executive Office of Administration and Finance, in an e-mail to the Monitor.
When repair work began on the building, the state's Division of Capital Asset Management and Maintenance identified the cornerstone area for fixes because water infiltration could damage the time capsule, Ms. Kelly says.
Once workers confirmed the capsule's location, conservator Pam Hatchfield from Boston's Museum of Fine Arts began a lengthy and delicate excavation. She spent about seven hours lying on her back to chip away at the stone block where it was hidden, and she finally emerged to a round of applause, holding the green corroded copper alloy box, The Boston Globe reports.
"Hopefully there will be no damage and we will be able to observe the artifacts that trace us back to the history not only just of this building, but of our commonwealth and our country," Massachusetts Secretary of State William Galvin said, as quoted by the Globe.
The Museum of Fine Arts will X-ray the box Sunday and then determine when to open it and how best to handle the contents, Kelly says. Officials have not yet decided whether they will add material to the capsule, the Globe reports.
"I have been privileged to spend all of my working life handling incredibly precious and important objects, and it is very exciting every single time," Ms. Hatchfield said, as quoted by the Globe. "The sense of continuation of history that you get by entering a museum or historic site, but also by having it in your hands, is incredibly rewarding and enriching. And it gives meaning to a lot of people."
Another time capsule was unearthed in Boston in October from the head of a golden lion atop the Old State House. It had been placed there in 1901. Its preservation is being handled by The Bostonian Society, which expects to put it back in place in the spring, when the building's refurbishment is finished – perhaps with a letter from Boston's current mayor, Martin Walsh, for future Bostonians to enjoy.