Man charged with arson in huge Los Angeles apartment building fire
The fire last December destroyed the apartment building project and damaged nearby buildings, as well.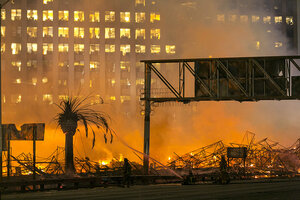 Damian Dovarganes/AP/File
Prosecutors charged a 56-year-old man on Thursday with starting a massive fire that gutted an apartment complex under construction in downtown Los Angeles and damaged three nearby buildings, authorities said.
Dawud Abdulwali, 56, who was taken into custody on Tuesday in connection with the Dec. 8 blaze, has been charged with arson of a structure and aggravated arson, the Los Angeles District Attorney's Office said in a statement.
He is scheduled to appear in court on Thursday and prosecutors will ask a Los Angeles judge to set Abdulwali's bail at $1 million, according to the District Attorney's Office.
Prosecutors did not give a possible motive for Abdulwali to set the fire, which took about 250 firefighters to extinguish and caused an estimated $30 million in damage to the building. In announcing his arrest on Tuesday, police had declined to say what evidence linked Abdulwali to the blaze.
An accelerant was used to start the fire on the fourth floor of the seven-story Da Vinci complex apartment complex under construction in downtown Los Angeles, according to the District Attorney's Office. The building was to become the latest of several Italian-style luxury apartment complexes erected by developer G.H. Palmer Associates in the downtown area.
The site that burned, two stories of poured concrete beneath five floors of wood framing, occupied an entire city block near the junction of two major traffic arteries - the Hollywood Freeway and the Harbor Freeway.
No one was injured, but much of the structure, wrapped in scaffolding, collapsed in the flames, producing heat so intense it ignited three floors of a neighboring high-rise building. The radiant heat also blew out windows in two other nearby office buildings.
If convicted, Abdulwali faces a maximum sentence of 10 years to life in prison.