Javascript is disabled. Quiz scoring requires Javascript.
How much do you know about Native Americans and First Nations?
Recent years have seen a considerable shift in public awareness about Native Americans and Canada's First Nations people. In the US, some want sports teams to drop logos and mascots deemed culturally offensive. The Obama administration paid $492 million to 17 sovereign tribes to settle claims that the government has mismanaged tribal resources. At the Standing Rock Sioux Reservation, members and supporters have fought against the Dakota Access Pipeline. How much do you know about the first people of Canada and the United States?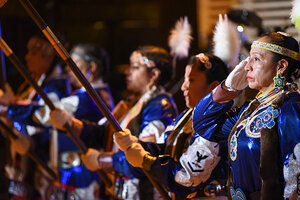 Kevin Wolf/ AP Images for Smithsonian's National Museum of the American Indian/ File
1.

In what year did Native Americans gain US citizenship?