Texas high court upholds 'Robin Hood' school funding scheme
The state's system of distributing local property taxes is 'undeniably imperfect' but constitutional, the Texas Supreme Court said Friday, striking down a ruling that sided with hundreds of school districts.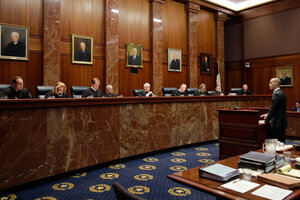 Eric Gay/AP
Texas's complex "Robin Hood" school funding system, where wealthy districts share revenue from local property tax with poorer districts, is constitutional, the Texas Supreme Court ruled Friday.
The surprise decision marked the end of a contested battle over school finance, where more than 600 districts had sued the state after the legislature cut $5.4 billion from the public education budget in 2011.
In its decision, the all-Republican court reversed a lower court's ruling that had called the funding set by the GOP-controlled legislature unconstitutional and said the school funding scheme was unfairly distributed among wealthy and poor parts of Texas.
"Our Byzantine school funding 'system' is undeniably imperfect, with immense room for improvement. But it satisfies minimum constitutional requirements," Justice Don Willett wrote for the court. Other justices also filed concurring opinions.
"Our judicial responsibility is not to second-guess or micromanage Texas education policy or to issue edicts from on high increasing financial inputs in hopes of increasing education outputs," he wrote.
The court overruled a 2014 decision by Travis County District Judge John Dietz, a Democrat, who had called the system of sharing local property tax revenues inadequate and unfairly distributed.
Districts in Texas are particularly dependent on property taxes because the state doesn't have an income tax. The case was also the largest of seven attempts to challenge the state's funding scheme, dating back to the 1980s, the court noted.
Following the legislature's 2011 cuts, the more than 600 districts, which represent both rich and poor areas of the state joined together to sue, argued the cuts made it impossible to continue to educate students as public school enrollment jumped by nearly 80,000 each year.
The cuts came as lawmakers pushed districts to maintain strict accountability standards for students and teachers and enforced tougher curriculum standards, the districts said. 
In 2013, Judge Dietz found that the state's system didn't meet the state's constitutional requirement for a fair and efficient system that provides a "general diffusion of knowledge." State lawmakers then restored more than $3 billion back to the schools and cut the number of standardized tests required to graduate from 15 to five.
Dietz briefly reopened evidence to consider the lawmakers' change, but opted not to change his mind before issuing a written ruling.
"We are dooming a generation of these children by providing an insufficient education, and we can do better," Dietz, who has since retired, told a group of teachers gathered in Austin last year. "It's in our best interest to do better."
Gov. Greg Abbott, then the state's attorney general, appealed the ruling to the Texas Supreme Court, while the legislature last year added another $1.5 billion back into the schools' budget. 
The increase came along with $118 million in funding for a pre-kindergarten program championed by Governor Abbott, but it wasn't enough to replace previous cuts as enrollment had grown. The attorney general's office has said that while the system isn't perfect, it meets constitutional standards.
Abbott called the ruling a "victory" for taxpayers. "The Supreme Court's decision ends years of wasteful litigation by correctly recognizing that courts do not have the authority to micromanage the state''s school finance system," he said in a statement.
This report contains material from the Associated Press.