Stephen Colbert and laughable politics: Five comedians who ran for office
American politics have been the subject of satire since before the country's founding – a political cartoon depicting a snake cut into eight parts, representing eight American colonial governments, ran in Benjamin Franklin's newspaper in 1754.
These days the US benefits from a healthy dose of humorous political commentary, but when the jokers run for political office (jokingly of course, right?) some funny things can happen. Here are five memorable ones.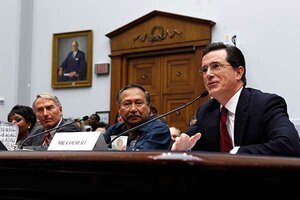 Kevin Lamarque/Reuters
1.

Stephen Colbert

Stephen Colbert loves the political spotlight. Bowing to pressure from fans, the Comedy Central funnyman officially declared his candidacy for the presidency in October 2007. At first promising to appear on both the Republican and Democratic ballots in South Carolina, his home state, he changed his plans after discovering the $35,000 fee to appear on the Republican ballot. His application to appear on the Democratic ballot met an official smackdown from the South Carolina Democratic Party executive council, ending his run for president almost as soon as it began.

Mr. Colbert, who famously got a crew cut in Iraq while performing for US soldiers in 2009, again flirted with official Washington last week, when he appeared before the House Judiciary Committee to testify on the plight of migrant workers. House majority leader Steny Hoyer wasn't amused at the ruse, calling Colbert's appearance "not appropriate."

Colbert and Comedy Central buddy Jon Stewart are making more political machinations next month, with competing events on Washington's National Mall: Mr. Stewart's "Rally to Restore Sanity" will battle Colbert's "March to Keep Fear Alive."