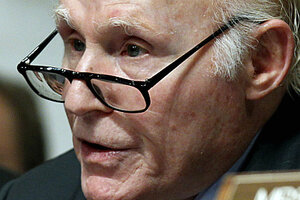 Pablo Martinez Monsivais / AP / File
3.

Herb Kohl (D) of Wisconsin

Senator Kohl is one of the wealthiest politicians in the country, with a personal net worth estimated to be at least $200 million – inspiring the catchphrase "Nobody's Senator but yours" in campaign commercials.

He has served in the Senate since 1988, and currently serves on the Appropriations, Judiciary, and Banking, Housing, and Urban Affairs committees. He also chairs the Special Committee on Aging. He has sponsored 274 bills during his Senate career, of which 236 did not make it out of committee and 4 were successfully enacted, according to the nonpartisan GovTrack.us.

Prior to his election to the Senate, Kohl was president of his family-owned business, Kohl's grocery and department stores, from 1970 to 1979, when the corporation was sold. In 1985, Kohl bought the Milwaukee Bucks basketball team, which he still owns, along with its arena.