Columbus Day: Your guide to the top 5 political events today
Election season doesn't stop for Columbus Day, as Mitt Romney and President Obama are proving on Monday, the last federal holiday before Nov. 6. Both presidential candidates are delivering speeches.
And the action isn't limited to the presidential contest. Other campaigns, including the Senate race in Virginia, are full steam ahead.
Here are your top five political events to watch this Columbus Day.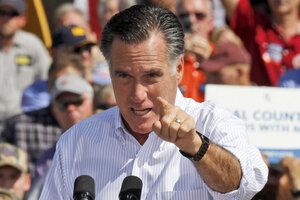 Steve Helber/AP
1.

Romney lays out his vision

Mr. Romney can't get enough of the commonwealth of Virginia. He made his first public campaign appearance there after last week's debate, and now on Monday, Romney is back in the Old Dominion to give a major foreign policy address at Virginia Military Institute (VMI) in Lexington, Va.

The speech, which will commence shortly after 11 a.m., could give a window into topics of contention at the next presidential debate, which will focus on foreign affairs. In excerpts released Sunday night, Romney attacks the president for what he describes as a listless approach to foreign policy broadly and the Middle East in particular.

"Hope is not a strategy," the excerpts read. "We cannot support our friends and defeat our enemies in the Middle East when our words are not backed up by deeds, when our defense spending is being arbitrarily and deeply cut, when we have no trade agenda to speak of, and the perception of our strategy is not one of partnership, but of passivity."

Romney promises to use "clear conditions" on US aid to Egypt to influence the newly formed government, vows to get weapons to Syrian rebels who "share our values," and will "recommit" the United States to establishing a Palestinian state alongside Israel.