Ten governor's races to watch in 2014
While Democrats face headwinds in midterm US Senate and House races in November, they head into 2014 governors' races with a political map in their favor.
Of the 36 governorships on the line in November, Republicans are defending 22 of them – and nine of those GOP governors' mansions are in states won by President Obama in 2012.
Still, state races are unpredictable. Here, politics really is local and extremely personal. The 2014 primary season has already produced surprises in a cycle featuring many highly unpopular incumbents. Even some solid red and blue states could flip in November.
Here are the 10 governor's races most likely to flip in 2014.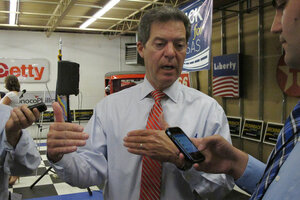 John Hanna/AP
1.

Kansas

Gov. Sam Brownback (R) is facing a backlash from moderate Republicans angry over his signature tax cut, seen as plunging the state into deficit, clobbering public services, and driving down the state's bond rating.

In a sharp rebuke, more than 100 past and present GOP lawmakers are endorsing his Democratic rival, state House minority leader Paul Davis.

Brownback, a former US senator, won election in 2010 on a pledge to turn Kansas into a model of red-state governance, including a record tax cut. But the promised jobs and economic growth never materialized.

After leading Davis in the polls as recently as mid-April, Brownback now trails the challenger by 3.2 percent, according to the RealClearPolitics average of major polls. Davis outpolls Brownback even on traditional GOP issues, such as taxes and government spending.