Getting bin Laden and five other boosts to Obama's reelection bid
"Yes We Can" was so 2008. Now President Obama is the incumbent, with a record to defend. More than whom the Republicans nominate to run against him in 2012, how voters perceive Mr. Obama's accomplishments and liabilities – two highly subjective categories, at times overlapping – will determine whether he gets four more years. Here are his top six accomplishments, including the killing of Osama bin Laden: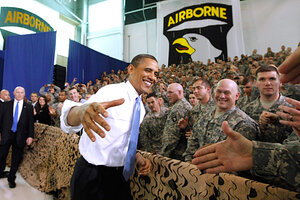 Charles Dharapak/AP
1.

Elimination of Osama bin Laden

More than any other single event in Obama's presidency to date, the killing of the world's top terrorist scores as a plus, earning the president near-universal bipartisan praise. As commander in chief, Obama pulled the trigger on a risky but superbly planned commando raid in Pakistan that paid off big, not only in the elimination of Mr. bin Laden but in the seizure of a treasure trove of intelligence material.

The dramatic event has spawned a series of side debates: Should the Navy SEALs have captured rather than killed the unarmed bin Laden? Should the US have kept his body rather than buried it quickly at sea? How should the US handle relations with Pakistan?

Obama got a bump in polls after the bin Laden killing, but that could be fleeting. And the successful bin Laden mission certainly does not guarantee reelection. The state of the economy will be the top determining factor. The future of the war in Afghanistan, whose original goal was to neutralize bin Laden's Al Qaeda terror network, also contains political risks for Obama. But no one can take the bin Laden raid away from Obama. With each anniversary of the bin Laden-orchestrated 9/11 attacks – including one right before the 2012 election – voters will be reminded of the drama of May 1, 2011.