Election 101: Is Herman Cain's media savvy enough to make him presidential? 10 things to know about him
Herman Cain, who announced his candidacy for president at an Atlanta rally May 21, aims to bring a new slogan to the White House: "Yes, We Cain!" Seriously, folks. The pizza magnate, aka the 'Hermanator,' is staging a full-on charm offensive, hoping his Southern-fried charisma, business savvy, top performance in the first GOP debate, and media prowess are enough to offset his fundamental flaw: zero political experience.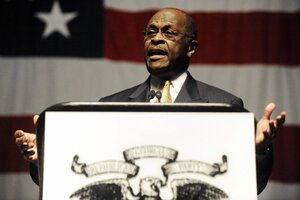 Grant Blankenship/AP Photo/The Macon Telegraph
1.

Who is he?

From humble roots, a good dose of ambition, smarts, and charm have helped Cain flourish.

Born in Memphis, Tenn., and raised in Georgia in the segregated South, before civil rights legislation was passed, Cain is the son of Luther and Lenora Cain, a chauffeur and a domestic worker. He was the first in his family to go to college and get a degree, which landed him in the US Navy as a systems analyst.

After earning his master's, Cain joined Coca Cola as a business analyst, then worked his way up at Pillsbury, where he resuscitated failing divisions, including, most famously, as CEO of Godfather's Pizza.

Cain pushed forward, becoming chairman of the Federal Reserve Bank of Kansas City, running in (and losing) a US Senate primary in Georgia, starting a syndicated column, penning bestselling books, and hosting "The Herman Cain Show." At 65, he's also a Baptist preacher, gospel singer, and Fox Business commentator – it's no wonder they call him the Hermanator.