Election 101: Ten facts about Jon Huntsman and his presidential campaign
Jon Meade Huntsman Jr. wants his boss's job. President Obama's former China ambassador declared his candidacy for the presidency on June 21. Dubbed "the Republican Democrats fear most," the tall, handsome, cerebral former governor of Utah often draws comparisons to Mr. Obama, the very man he's struggling to distance himself from. Will that, and his centrist views and Mormon faith, keep him on the margins of the Republican field?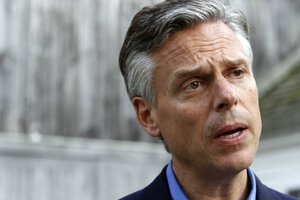 Elise Amendola/AP
1.

Who is he?

Mr. Huntsman is one of nine children of billionaire businessman and philanthropist Jon Huntsman Sr., who got rich developing the clamshell packaging for McDonald's Big Macs. A seventh-generation Utah resident, Huntsman dropped out of high school in the 1970s to play keyboard for the rock band Wizard. He eventually received his GED, attended college, and served as a missionary in Taiwan, where he became fluent in Mandarin and Taiwanese Hokkien.

After serving in the Reagan, Bush Sr., and Bush Jr. administrations, Huntsman became governor of Utah, where he enjoyed approval ratings near 90 percent. He resigned in 2009, when Obama asked him to become ambassador to China. Known as a cool, cerebral diplomat who loves progressive rock and riding motorcross, Huntsman has a net worth between $15 million and $90 million.