Election 101: Eleven facts about Buddy Roemer and his presidential bid
Charles "Buddy" Roemer is trying to stage a comeback. After nearly two decades out of office, the four-term congressman and one-time Louisiana governor declared his candidacy for president on Thursday in New Hampshire.
An old-fashioned, charismatic Southern pol, the thrice-married, twice-divorced candidate may be hamstrung by his negligible name recognition, constituency, and funds.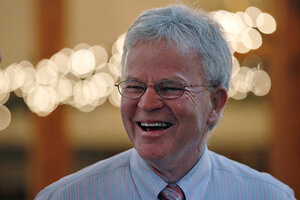 Charles Krupa/AP
1.

Who is he?

Mr. Roemer described himself this way at an Iowa Faith & Freedom Coalition event in March: "I've always been a churchgoing Methodist boy from a cotton field in north Louisiana."

Born in Shreveport, Roemer graduated as valedictorian of his high school class and entered Harvard University when he was just 16. Roemer went on to earn his MBA from Harvard and work in his father's computer business before entering politics.

In 1972, he was elected as a delegate to the Louisiana Constitutional Convention. He went on to serve four terms as a Democratic representative of Louisiana's Fourth district, followed by one term as governor of Louisiana, during which he switched parties.

Roemer, who is now the founder and president of Business First Bank, is known as an old-fashioned Southern pol with an eccentric streak and a rousing stump speech.