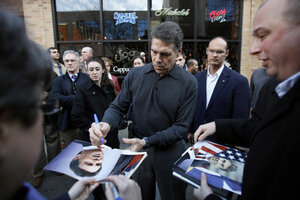 Charlie Neibergall/AP
3.

How the results are tabulated

Officials from the Republican Party of Iowa aggregate results from around the state and report them to the media via a website that has yet to be announced. The Iowa GOP says it will report the votes for Minnesota Rep. Michele Bachmann, businessman Herman Cain (though he is no longer a candidate), former House Speaker Newt Gingrich, former Utah Gov. Jon Huntsman Jr., Texas Rep. Ron Paul, Texas Gov. Rick Perry, former Louisiana Gov. Buddy Roemer, former Massachusetts Gov. Mitt Romney, former Pennsylvania Sen. Rick Santorum, "No Preference," and "Other."

UPDATE: The Iowa GOP has announced that the public can access results as they become available here and here.