Obama or Romney? How 5 undecided voters are making up their minds.
One by one, voters who couldn't decide between President Obama and Mitt Romney are making up their minds.
Last month, the Monitor profiled five undecided voters whose allegiances were especially prized because they live in swing states. Now, less than two weeks before Election Day, we check in with them to see what they're thinking now.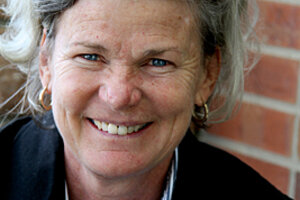 Amanda Paulson/The Christian Science Monitor
Julia Wrapp, Boulder, Colo.

Occupation: real estate agent and entrepreneur

Personal: single

2008 vote: Obama

Julia Wrapp watched every presidential debate, but she wasn't swayed at all – except to reinforce her dislike of the debating process.

"It makes my stomach upset," Ms. Wrapp says. "I wish they'd work together more instead of be at each other."

And so Wrapp is still an undecided voter.

Although Wrapp voted for Mr. Obama four years ago, she's having a harder time supporting him now. Wrapp worries that his policies have made it harder to get businesses going, and she believes in small government and personal responsibility. But she's also not sure she trusts Mr. Romney.

As of Oct. 26, Romney is ahead by a sliver of 0.4 percentage points in Wrapp's state of Colorado, according to the RealClearPolitics average of polls for the state.

Wrapp did find one resource informative: a PBS "Frontline" piece called "The Choice 2012," which delved into the backgrounds of both candidates. But she still can't quite decide, though she knows she'll cast a ballot on Election Day.

"I lay awake nights thinking about it," she says. "I really am torn. At a gut core level, I'm torn."

– Amanda Paulson, staff writer