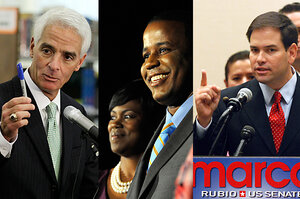 AP and Reuters
2.

Florida: Rep. Kendrick Meek (D), Marco Rubio (R), and Gov. Charlie Crist (I)

Florida only just had its primary Tuesday, and its Senate race has already had enough twists and turns for an entire election campaign. Early this year, it looked like Mr. Meek and Mr. Crist, then a Republican, were sure to face off in November. But Mr. Rubio, the conservative former Speaker of the state House, got "tea party" support and painted Crist as too moderate for the Republican nomination. After a precipitous drop in the polls, Crist left the Republican Party in April but remained in the race as an independent.

Meanwhile, billionaire businessman Jeff Greene jumped in on the Democratic side of things and briefly drove down Meek's support with a multi-million dollar ad campaign. Meek recovered to win the Democratic primary decisively, though, setting up a three-way race for the fall. Rubio and Crist – who is getting significant support from Democrats amid rumors that he would caucus with the party in the Senate if he won – are tied at the top of polls, with Meek lagging behind.