Obama expands North Korea sanctions, striking at illicit enterprises
President Obama signed an executive order Monday that adds to the list of North Korea sanctions. This one targets North Korean entities involved in activities such as drug trafficking and arms sales.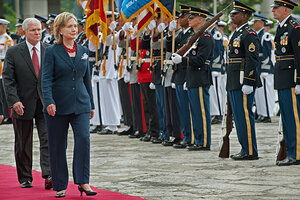 Paul J. Richards/AP/File
The Obama administration on Monday slapped new sanctions on North Korea in an effort to clamp down on the varied illicit activities that keep the pariah state afloat.
President Obama signed an executive order that adds activities such as arms sales, money laundering, narcotics trafficking, and the procurement of luxury goods to the list of areas the US will target in its global efforts to pressure the North Korean regime. A previous executive order signed by President George W. Bush in 2005 provides for actions against North Korean entities and individuals involved in the import or export of weapons of mass destruction.
"We have seen that the world reacts to this kind of thing very, very powerfully," said Stuart Levey, undersecretary for terrorism and financial intelligence, in announcing the new measures at the Treasury Department. "There's a knowledge out there that North Korea engages in illicit activity, and this [action] highlights that knowledge."
In addition to announcing the new executive order, Treasury and the State Department jointly announced the designations of five North Korean entities and three individuals for sanctions under the existing executive order targeting the sales and procurement of weapons of mass destruction.
The new actions "are an integral part of the administration's overall approach to addressing the challenges posed by North Korea," says Robert Einhorn, State Department special adviser for nonproliferation and arms control. While calling the steps part of an ongoing effort to end North Korea's "provocative behavior" ranging from missile tests and arms activity to aggressive acts toward South Korea, Mr. Einhorn adds that Pyongyang still has a "diplomatic path" open to it that could lead to an end to its isolation and to full relations with the US.
Despite the Obama administration's preference for dialogue, he adds, the US is not inclined to "reward North Korea simply for returning to the negotiating table. We are not interested in talk for talk's sake."
The new sanctions come just three days after former President Jimmy Carter secured the release of an American citizen imprisoned in the North since January for illegally entering the country. Officials say the timing of the new sanctions have no relation to Mr. Carter's mission.
Secretary of State Hillary Rodham Clinton had suggested in comments July 21 that new measures against North Korea were coming. The announcement of sanctions so soon after Carter's mission fueled speculation that they were delayed until after the former president could make his mission of mercy. But Mr. Einhorn said the lag between Secretary Clinton's comments and the actual announcement was actually due to the complexity of such designations.
Einhorn also said China had been informed of the measures. "We expect China to work with us in taking steps to help bring North Korea in compliance with its own commitments," particularly in terms of undoing its nuclear program, he said. China voted in favor of the United Nations Security Council resolutions that serve as the basis for the new US sanctions and executive order.
One of the more intriguing designations made Monday was that of the North Korean Workers' Party "Office 39," which the Treasury Department says provides support for "managing the leadership's slush funds." It says Office 39 is involved in the smuggling and distribution of narcotics, including methamphetamine in China, and cultivation of opium poppies.
Treasury's Mr. Levey says the president's new executive order extends the department's authority for targeting entities like Office 39, but he says legal and intelligence concerns dictate that he be "limited in my response" when asked for more details on the mysteriously named Office 39.