Top issue in Israeli-Palestinian talks: When will real negotiations begin?
Before Mideast peace talks Thursday, Secretary of State Hillary Clinton warned the two sides in the Israeli-Palestinian conflict that they have nothing to gain by waiting to tackle thorny issues.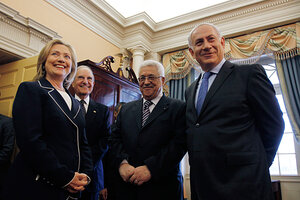 Jason Reed/Reuters
Secretary of State Hillary Rodham Clinton formally launched direct talks between the Israeli and Palestinian leaders at the State Department Thursday morning.
Flanked by Israeli Prime Minister Benjamin Netanyahu and Palestinian Authority President Mahmoud Abbas, Secretary Clinton spoke of an arduous road ahead but warned that the difficult issues to resolve before a peace accord can be reached "will get no easier if we wait."
She turned to the two leaders beside her and added, "I firmly believe … you are the leaders who can make this long cherished dream a reality."
No one expects substantive results from the day's talks, but two issues to be addressed immediately will be watched as an initial gauge of the prospects for this latest stab at reaching a peace accord: where and when will the real negotiations commence, and in what order will the talks address the key issues that must be resolved?
As Clinton told the two leaders and their accompanying teams, "The true test" of whether these talks succeed "is not the first day, and it's not the last. It's … all those long days in the middle." The Obama administration has set a goal of reaching an accord within a year.
Face to face
Administration officials – some of whom, including Clinton, are benefiting from their experience in past peace efforts – say they want the continuing talks to be frequent, face-to-face sessions, most likely in the region for easy accessibility.
Egypt has already offered to host subsequent sessions at Sharm el-Sheikh, the resort and conference center at the tip of the Sinai Peninsula, according to Soliman Awaad, spokesman for Egyptian President Hosni Mubarak.
Speaking after Clinton in the State Department's ornate Benjamin Franklin Room, Mr. Netanyahu cited "two pillars of peace" he said would "enable us to resolve all" outstanding difficulties: legitimacy and security. He said Israel must be recognized not just as an existing entity but as "the nation-state of the Jewish people."
In elaborating on the security "pillar," Netanyahu spoke of how the security challenges facing Israel have "changed" over the last decade. He referred specifically to "the rise of Iran and its proxies," a clear reference to Hamas in Gaza and Hezbollah in Lebanon, and to "the rise of missile warfare."
Clinton and the two leaders all spoke of and condemned the Hamas-claimed gunfire attacks in the West Bank this week: one that killed four Israeli settlers on Tuesday, and another Wednesday that wounded two others.
Condemnation for the gunfire attacks
Mr. Abbas condemned the acts of violence and noted that security officials had already made progress in locating the "perpetrator," and that "we consider that security is vital to both of us."
But, in an apparent reply to Netanyahu's statement on Israel's status, he reminded the Israeli leader that the two governments had already signed "documents of mutual recognition" at earlier stages in the peace process.
Abbas countered that the basis for peace is to be found in "international law and international legality" – a clear reference to United Nations resolutions condemning Israel's occupation of Palestinian lands as illegal.
The Palestinian leader also called on Israel to "end … all forms of incitement," a pointed allusion to Israeli settlement construction in the West Bank and Arab East Jerusalem.
Indeed, the renewed talks face an imminent hurdle in the Sept. 26 end of Israel's moratorium on settlement activity.
How Netanyahu navigates that issue – most observers expect the Israeli government to decide on something between an extension of the moratorium and its total lifting – and how the Palestinian leadership responds could determine if these talks face an early demise.