UN Millennium Development Goals: Are they being reached?
The UN leader urges world leaders attending a summit to rededicate themselves to reaching the Millennium Development Goals. Despite some successes on poverty and school enrollment, many challenges remain.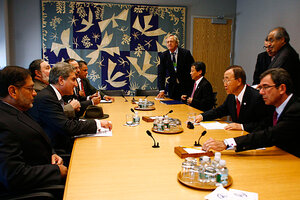 Eric Thayer/Reuters
The status of the ambitious goals world leaders set a decade ago for reducing extreme poverty and enhancing global development by 2015 is a classic case of the glass being either half empty or half full.
As a largely new crop of world leaders gathers for a summit at the United Nations in New York to rededicate themselves to the Millennium Development Goals set in 2000, it is possible to cite significant progress in a number of areas, from the headway made in cutting the world's worst poverty to significant jumps in primary school enrollment.
At the same time, however, several of the UN's eight millennium goals have seen painfully little progress and at the current snail's pace of improvement won't be reached, development experts and international officials say. Among the farthest off the mark: the goal of reducing by three-fourths the maternal mortality rate, and that of reducing by two-thirds the mortality rate of children under 5.
With the 2015 goal line approaching, UN Secretary-General Ban Ki-moon wanted to seize the opportunity of this week's gathering of world leaders in New York for the annual opening of the UN General Assembly to hold a summit focusing global attention on the work still to do if the poverty-reduction goals are to be met, aides say.
"The idea is, with five years to go, to remind the world's wealthy and developing countries alike of the commitments they made and to encourage them to recommit to these goals by dedicating new resources and initiatives for meeting them," says Farhan Haq, a press assistant to Mr. Ban. The secretary-general, he said, "will remind the leaders that these are the governments' own goals, and that the summit … is about finding new ways of achieving them."
Capitalizing on 'peace dividend'
The Millennium Development Goals were originally envisioned as a way of matching a needed revitalization and updating of global development efforts with the so-called "peace dividend" resulting from the end of the cold war. The goals' start date of 2000 coincided with a boom in both the world economy and a proliferation of international nongovernmental organizatons addressing global poverty issues.
But this week's "rededication" summit is being held amid a global economic downturn. Ban is mindful of the economic difficulties many countries face, Mr. Haq says, but also believes that the current difficulties must not obscure the long-term gains to be reaped by a renewed effort to reach the goals.
In opening the development goals summit Tuesday, Ban said the "books" of the world's well-off "must not be balanced on the backs of the poor." The summit concludes Wednesday afternoon, when many eyes will be focused on President Obama, who will offer the US vision for meeting the goals.
Some countries and international institutions have already announced their plans and contributions for reaching the development targets. The World Bank on Tuesday announced $750 million in new aid toward reaching the education goal, and French President Nicolas Sarkozy said his country would increase by 20 percent its contribution to the Global Fund to fight HIV-AIDS, tuberculosis, and malaria.
In addition, Mr. Sarkozy and Spanish President José Luis Zapatero called for a global tax on financial transactions to create a fund for development financing. That proposal was especially well-received by some nongovernmental aid organizations.
"With almost a billion people hungry, and nearly a thousand women dying in childbirth every day, hard cash is needed to meet [this] development goal and save lives," says Emma Seery, a spokeswoman for Oxfam. "A tiny tax on the financial sector could raise hundreds of billions annually to fight poverty and climate change that are blighting the poorest countries."
Focus on children
Some development experts say experience and research support the targeting of child health and development goals as the surest and most effective option for further reducing poverty levels. Reflecting that, Ban and others on Wednesday will propose a new strategy for meeting the goals related to children.
"The [goals] related to children are still the farthest behind, but Ban is going to make the point that if we can charge up those goals we can make greater progress on all as a whole," says Susan Meyers, executive director in New York of the UN Foundation, an organization founded by Ted Turner to work with the UN on development and peace issues. A new "global strategy on women and children" will establish new financing, encourage policy changes on the ground, and propose "innovative ways to deliver services better," she says.
Mr. Obama is expected to underscore in particular the roles that economic development at the local level and individual entrepreneurship can play in reducing poverty, in particular among women.
Indeed, some development experts point out that if substantial progress has been made in the goal of halving extreme poverty, it is largely thanks to very strong economic growth in a few large countries such as China and India. The "glass-half-empty" side of that observation is that equivalent growth in many smaller poor countries, particularly in Africa, won't be easily achieved.