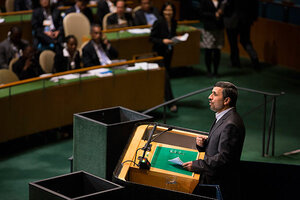 John Minchillo/AP
3.

A muzzled Mahmoud Ahmadinejad of Iran?

In the past, President Ahmadinejad has seemed to relish his ability to send many delegations fleeing the General Assembly's green auditorium with his inflammatory statements – usually directed against Israel, but also targeting the US and the big-power-led Security Council. With Israeli Prime Minister Benjamin Netanyahu threatening a military strike against Iran's nuclear facilities, Mr. Ahmadinejad may opt to throw a few verbal bombs of his own. But some Iran experts, noting that Ahmadinejad is embroiled in a power struggle at home with supreme leader Ali Khamenei, wonder if he might tone down his rhetoric this year.

With Iran's economy in free fall as a result of UN-approved international sanctions and with the Iranian leadership declaring (and participating in) the Syrian civil war as a battle between regional and international "domineering powers," don't bet on it.