War with Iran? 5 ways events overseas could shape Obama's second term.
By the time President Obama renews his oath of office at the United States Capitol next January, he may have only a few short months to avoid another war in the Middle East – this one over Iran's advancing nuclear program.
The threat posed by Iran's uranium enrichment program is the most urgent example of the foreign-policy challenges that face Mr. Obama. Some, like Iran, won't wait for Inauguration Day. Others, like the use of drones or the threat of global warming, should receive new or renewed attention over the course of a second term.
Here are five overseas issues that will likely confront Obama in the next four years.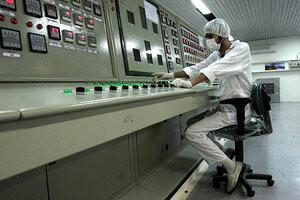 Vahid Salemi/AP/File
1.

Iran

Mention "grand bargain," and most Washington watchers will be forgiven for thinking domestically and in terms of the deal Obama will be trying to reach with Republicans to avoid the "fiscal cliff' of mandatory budget cuts and tax hikes.

But there's another grand bargain hanging out there like hard-to-reach fruit, and that's one envisioned between Washington and Tehran that would verifiably end the threat of Iran's nuclear program, ensuring there is no path to an Iranian nuclear weapon. In exchange, the US would lift onerous economic sanctions – and potentially even normalize relations.

But reaching such a grand bargain is by no means a short-term proposition, with most regional experts agreeing that the interim steps are daunting enough. Dormant international negotiations with the Iranians (and which include the US) may well get going again in the wake of the US elections – especially given the severe bite that international sanctions have made in the Iranian economy.

An interim deal would address the most threatening aspects of Iran's uranium enrichment program, but prospects are dim for reaching such a deal before Israel decides Iran has crossed a "red line" in its stockpiling of enriched uranium – perhaps next spring or summer, some analysts say.

Within weeks of Obama's second inauguration, the Iran nuclear issue could lead to a new paroxysm of tensions and renewed speculation over the dire global consequences of another Middle East war.