Where do things stand at Guantánamo? Six basic questions answered.
President Obama this week pledged to "reengage" with Congress to find a way to close the terror detention camp at the Guantánamo Bay, Cuba, naval base. "It is expensive. It is inefficient. It hurts us, in terms of our international standing. It lessens cooperation with our allies in counterterrorism efforts. It is a recruitment tool for extremists. It needs to be closed," he told reporters.
But Republicans in Congress have taken steps to bar the use of federal money to transfer Guantánamo detainees to the US or to any foreign country. That puts the president in a bind. The renewed focus comes as 100 of the 166 detainees are reported to be engaged in a hunger strike.
Here is a brief look at where things stand now.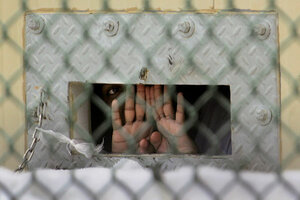 Brennan Llinsley/AP/File
1.

What prompted the hunger strike?

A. This is not the first hunger strike. There have been several over the years. The most recent hunger strike is reported to have begun after a search of cells by guards in early February. The guards seized items identified as contraband and allegedly mishandled the Quran.

On a broader level, the detainees are said to be protesting their treatment and the circumstances of their open-ended detention without charge. The initial hunger strike has spread to include 100 of the 166 detainees. Lawyers for the detainees say the protest stems from a growing sense of hopelessness.