Boy Scouts sued by 19 people for sexual abuse in Connecticut
This latest sexual assault lawsuit comes on top of more than 50 cases brought against the Boy Scouts in the past few years.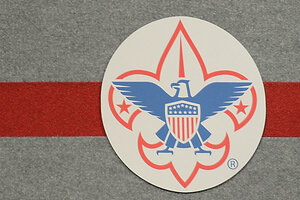 (AP Photo/Mark Zaleski, File)
After the death of their former scoutmaster, 19 adults have filed the largest single lawsuit against the Boy Scouts of America and two Connecticut chapters, claiming that the national and local organizations ignored signs of child abuse in the 1960s and 70s.
The plaintiffs' lawyer, Brooke Goff, said that one scout was sexually abused more than 1,000 times. The incidents allegedly took place at the home of scoutmaster Donald Dennis, who was also a Ridgefield, Conn., businessman and auxiliary state trooper, as well as on camping trips and at the church where chapter meetings took place. 
"There was never any supervision on the camping trips. They just left this guy alone with all of these kids and he would go from tent to tent," Ms. Goff told the Hartford Courant. 
"Back in the 1960's and 1970's these issues just weren't talked about," Goff added. 
The plaintiffs include 17 former Scouts and two girls, who say they were forced to watch abuse. Their lawsuit, which was filed in Stamford in October, accuses the national Boy Scouts organization, the Fairfield County Council, and the Connecticut Yankee Council of not taking measures to prevent abuse.
According to the suit, some of the victims were reminded of the abuse after long-hidden records of scoutmasters suspected of abuse came to light in a 2012 case.
When Scout abuse victim Kerry Lewis won $18.5 million in 2010, at the time the most-ever awarded to an individual plaintiff in a US child abuse case, Mr. Lewis' lawyer argued that the Scouts cooperated with police when asked, but rarely brought suspicious cases to their attention. 
Lewis' case was just one of more than 50 cases brought against the Boy Scouts in the past few years, according to the Guardian. In 1991, the Washington Post jolted readers with a five-part report on pedophilia among Scout volunteers, finding that at least 1,151 Scouts had reported abuse since the mid-1970s, leading to 416 leaders' arrests, or being banned from Scouting. 
In recent years, most high-profile cases concern abuse that happened decades ago. Since the extent of abuse was made public, the Scouts have developed well-regarded prevention programs, from banning one-on-one contact to insisting on "two-deep leadership" instead of a single unsupervised leader. 
But the Scouts have been ensnared in other difficult debates since then, particularly over their policies towards gay boys and leaders. 
This summer, national leadership lifted the organization's ban on gay leaders, after previously allowing gay youth to join. 
Some 70 percent of troops are hosted by religious organizations opposing the new rule, many of which were not completely mollified by the Scouts' promise that local chapters could set their own leadership standards. 
With both sides of the controversy left unsatisfied, the Boy Scouts are suffering financially. In Utah, the leaders of a 90,000 boy chapter told the Salt Lake Tribune they feared they'd have to fire employees, given low donation rates in the wake of the decision to allow gay scoutmasters. 
In 2014, membership dropped 7.4 percent from the year before, to 2.4 million Scouts.