Why is Apple refusing to help federal investigators?
Apple released a question and answer blog post Monday explaining its response to the United States government's order for the tech company to unlock an iPhone used by one of the shooters in last year's San Bernardino terror attack.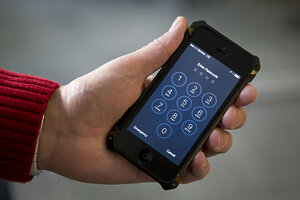 Carolyn Kaster/AP/File
The United States government's demands that Apple, Inc. unlock the iPhone used by one of the perpetrators of a December terror attack were met with a firm refusal from Apple's CEO last week.
Government representatives have requested that Apple provide a "backdoor" workaround to the iPhone's security systems to overcome encryption features and learn more about its user, Syed Rizwan Farook, and his wife Tashfeen Malik, who in December killed 14 and injured 22 when they opened fire on a Department of Public Health holiday party in San Bernardino, Calif. The iPhone was issued to Mr. Farook, an employee of the health department, by San Bernardino County. Both he and Malik destroyed their personal phones before the assault.
On Monday, Tim Cook, chief executive at the technology giant, responded to a US District Court order from last Tuesday and a follow-up government motion issued on Friday that demanded Apple's cooperation in unlocking the phone. Apple posted a question and answer blog on its website refuting the notion that Mr. Cook or Apple would proceed as ordered, while asking for a review of technology and security standards.
"Our country has always been strongest when we come together. We feel the best way forward would be for the government to withdraw its demands under the All Writs Act and, as some in Congress have proposed, form a commission or other panel of experts on intelligence, technology, and civil liberties to discuss the implications for law enforcement, national security, privacy, and personal freedoms," the Apple post read. "Apple would gladly participate in such an effort."
The Q&A release also stated that Apple had already done everything within its power to aid law enforcement regarding the case, adding that "We have no sympathy for terrorists," while criticizing the government's "unlawful" request.
Cook released a statement last week in response to the court order, which highlighted his position on the matter and stressed Apple's opposition to creating an iPhone backdoor.
"Opposing this order is not something we take lightly," Cook wrote in the message. "We feel we must speak up in the face of what we see as an overreach by the US government."
"While we believe the FBI's intentions are good, it would be wrong for the government to force us to build a backdoor into our products," he said. "And ultimately, we fear that this demand would undermine the very freedoms and liberty our government is meant to protect."
Reuters reported that some victims of the shooting will file a legal brief supporting the Federal Bureau of Investigation's (FBI) efforts to get Apple to unlock the phone.
Public opinion on what Apple's next move should be is divided; 51 percent of Americans surveyed in a Pew Research Center poll said that the company should unlock the phone, while 38 percent were against the proposition. Eleven percent of those surveyed were unsure of what action the tech company should take.
For its part, the FBI, which is heading the investigation into the shooting and the perpetrators' phone, responded by saying that the case outweighed Cook's privacy concerns.
"The San Bernardino litigation isn't about trying to set a precedent or send any kind of message. It is about the victims and justice," FBI Director James Comey wrote in an opinion piece on Lawfare Sunday. "Fourteen people were slaughtered and many more had their lives and bodies ruined. We owe them a thorough and professional investigation under law. That's what this is."
Comey's statement went on to encourage Americans to speak out on the issue, and to "both embrace the technology we love and get the safety we need."
The FBI announced Saturday it had worked with San Bernardino County officials to access the iCloud account linked to Farook's iPhone, an effort that resulted in the account's password resetting. Had that not happened, Apple may have been able to access the account information, but the federal authorities stressed the development would not impact their order for Apple to implement a backdoor.