'One person, one vote': What Supreme Court ruling means for states
In a blow to conservative challengers of the current system for outlining legislative districts, the court ruled to keep the widely-used system states use to draw voting districts based on total population, rather than just eligible voters.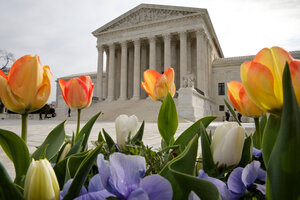 J. Scott Applewhite/AP
In a ruling Monday, the US Supreme Court upheld the half-century-old "one person, one vote" practice used by nearly every state to divvy up legislative districts based on the total population in each one.
Conservative plaintiffs in a Texas-based case fought to divide districts in the state not by total population, but by population that was eligible to vote. If accepted, this method would have allowed Texas and other states with high populations of non-citizens — such as California, New York, New Jersey, Arizona, and Nevada — to exclude them, as well as prisoners and children, from legislative representation.
Such a change would have propped up Republican candidates competing in state legislative races in sparsely populated, rural districts with predominantly white voters, and hurt Democrats from racially diverse, dense urban districts.
The court's unanimous ruling left intact the practice of counting all residents when drawing state and local voting districts.
"Nonvoters have an important stake in many policy debates — children, their parents, even their grandparents, for example, have a stake in a strong public-education system — and in receiving constituent services, such as help navigating public-benefits bureaucracies," liberal Justice Ruth Bader Ginsburg wrote in an opinion signed by six justices, including Chief Justice John Roberts and Justice Anthony Kennedy. 
"By ensuring that each representative is subject to requests and suggestions from the same number of constituents, total-population apportionment promotes equitable and effective representation," Ginsburg wrote. 
Conservative Justices Samuel Alito and Clarence Thomas also signed onto the opinion of Justice Ginsburg, though they concurred only in the judgement.
Justices Thomas and Alito agreed that Texas cannot be forced to use a new method to draw districts, but also left room for a better system than the one used now by most states.
"Whether a state is permitted to use some measure other than total population is an important and sensitive question that we can consider if and when we have before us a state districting plan that, unlike the current Texas plan, uses something other than total population as the basis for equalizing the size of districts," Alito wrote, according to USA Today.
This report contains material from the Associated Press.