Baltimore cop Edward Nero acquitted in death of Freddie Gray
Baltimore Police Officer Edward Nero was acquitted by a judge Monday. He faced up 10 years in prison for second-degree assault.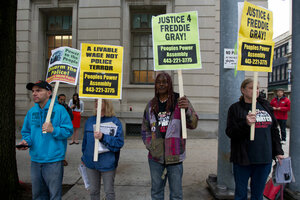 Jose Luis Magana/AP/File
UPDATE: A Baltimore officer was acquitted Monday of assault and other charges in the arrest of Freddie Gray, dealing prosecutors a significant blow in their attempt to hold police accountable for the young black man's death from injuries he suffered in the back of a police van, The Associated Press reported.
A judge also found Officer Edward Nero not guilty of reckless endangerment and misconduct in office.
-----------
The judge's ruling is the first decision in the case that set off riots across Baltimore and fueled the Black Lives Matter movement.
Prosecutors say Officer  Nero arrested Mr. Gray without probable cause and was negligent in not buckling the prisoner's seat belt before Gray's neck broke in the back of the police transport. Mr. Nero faced charges of second-degree assault, which carries a penalty of up to 10 years in prison, as well as reckless endangerment and misconduct in office, according to The Baltimore Sun.
Although all three charges are misdemeanors, any verdict Judge Barry Williams hands down will hold significance for the future prosecution of police officers. Among the publicized deaths of unarmed blacks who died in police custody, the six officers involved in Gray's death are some of the few to be prosecuted. Even the mistrial of Porter Williams, the first Baltimore officer tried for Gray's death, was seen by many as a significant step forward, as "community outrage had been building for years as similarly controversial deaths went nowhere in the courts," as the Monitor's Henry Gass reported in December:
The Freddie Gray trials have an added historical significance in the context of America's ongoing debate over police use of force. Gray is one of several high profile examples of black men who have died in the hands of law enforcement, but his case is the first to go to trial. Others, such as the death of Michael Brown and Eric Garner, never even resulted in charges being brought against officers.
Nero and the other officers arrested Gray, in April 2015, after Gray ran from police. Once detained, Gray was handcuffed and placed in the rear of a police transport. There, he suffered a spinal cord injury, and died in a hospital a week later. His death ignited protests in Baltimore.
The three misdemeanors Nero faces are the least serious charges any of the six officers face. Officer Porter, Sgt. Alicia White, Lt. Brian Rice, and Officer Caesar Goodson have all been charged with manslaughter. Officer Goodson, the driver of the van, additionally faces a second-degree, depraved-heart murder charge. In the case of "depraved heart,"  a defendant is accused of acting with a "depraved indifference" to human life and where such act results in a death.
Officer Garrett Miller also faces three misdemeanors of assault, reckless endangerment, and misconduct in office.
Nero's attorney has argued that he didn't arrest Gray, and it's the police van driver's responsibility to buckle detainees.
The attorney also argued the police department's order that all inmates be buckled in is "more suggestion than rule because officers are expected to act with discretion based on the circumstances of each situation," according to the Associated Press.
Mr. Porter, whose trial ended in a hung jury, was the first of the six officers to be tried for Gray's death.
Nero opted for a bench trial, leaving the verdict solely in the hands of the judge. 
This report contains material from the Associated Press.