DOJ urged to push harder on reports of deaths in police custody
A coalition of 67 groups including the ACLU, Amnesty International, and the NAACP is urging the US attorney general to withhold federal funds from local police chiefs unless they fully report deaths that occur while suspects are in police custody.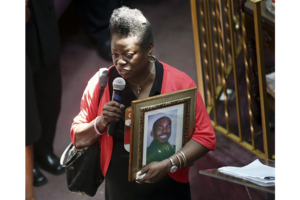 Mel Evans/AP/File
A recent uptick in highly publicized deaths in police custody in cities around the country has prompted protests and difficult questions about race, justice, and police from around the country.
It is also prompting calls for the Department of Justice to improve its system for recording such deaths, which many say is lacking.
A coalition of 67 human rights and civil liberties groups is calling on the government to strengthen rules about reporting deaths in officer custody – and to punish police departments that don't. 
"There should be simple procedures so that police can provide complete and accurate data or face clear consequences for non-compliance," Wade Henderson, president of the Leadership Conference on Civil and Human Rights, a civil rights coalition based in Washington, D.C., said in a press release.
This coalition, which includes the ACLU, the NAACP Legal Defense and Educational Fund, the United Methodist Church, the National Immigration Law Center, the National LGBTQ Task Force, and the Southern Poverty Law Center, wants to replace an older model under which the Federal Bureau of Investigation (FBI) has asked police departments to report such deaths voluntarily. The "opt-out" clause in this system means that these counts can be off by up to half, Jon Swaine reported for The Guardian.
Another law, passed in 2014, allows the Department's head, Loretta Lynch, to reduce federal funding by 10 percent for any departments that don't report, but this law has been largely ignored. 
Last month, the government announced plans to begin sending a form each quarter to the nearly 20,000 police agencies around the country, asking for the number of arrest-related deaths in that department. The form is described as a "pilot study to determine the most efficient and comprehensive means of identifying arrest-related deaths and collecting information about individuals who die in the custody of law enforcement."
The Department of Justice also sends each department a list of media-reported deaths for confirmation, with spaces to add deaths in custody not reported by local or national news media. 
But Mr. Henderson criticized the government's use of data sets collected by The Guardian and the The Washington Post, saying, "It's the government that should be providing journalists with transparent data, not the other way around."
In a letter, the rights groups said the government must develop the resources to monitor deaths in police custody on its own. 
"Certain media outlets have been critical to understanding police-civilian encounters over the past year, but it is unlikely that national media attention and resources can remain on policing indefinitely," the letter says. 
These groups want the Department of Justice to make it clear that this is a priority by cutting funding for departments that don't report. 
"The financial penalty is critical to successful implementation of [the 2014 law] as voluntary reporting programs on police-community encounters have failed," the letter stated. 
The letter from rights groups came in response to a Bureau of Justice Statistics request for comment on its enforcement of this law.