Bed bugs: Lincoln Center is latest to confirm infestation in the most bed bug-infested city in America
The Lincoln Center's David H. Koch Theater has had to go dark after a confirmed bed bug infestation of a dressing room. New York is at the top of the list of most bed bug-infested cities.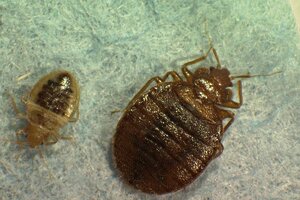 Tim McCoy/AP/File
Lincoln Center has some unwelcome patrons: bedbugs.
New York City's pre-eminent performing arts center made the discovery in a dressing room of its David H. Koch Theater. It's the home of the New York City Ballet and the New York City Opera.
The theater is currently dark. The opera's fall season opens Oct. 27. The ballet company last occupied the building on Sunday.
Spokeswoman Maggie McKeon confirmed the outbreak. It was first reported online on Wednesday by the New York Observer. It cited an Oct. 8 e-mail from the theater's managing director Mark Heiser. He said treatment to rid the theater of the tiny pests was under way.
The bugs have been discovered in theaters, clothing stores, office buildings, housing projects and posh apartments throughout the city.