Exit plan for Joe Paterno at Penn State?
Joe Paterno's 45-year career as head coach of Penn State could end within "days or weeks," according to The New York Times. Paterno has not be charged with any crimes related to the Jerry Sandusky sex abuse allegations.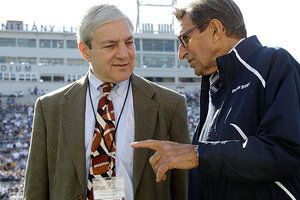 AP Photo/Gene Puskar, File
Pressure mounted on Tuesday on Penn State University football coach Joe Paterno, one of the biggest names in American sports, in a scandal over allegations that a long-time assistant coach sexually abused boys and school officials covered it up.
Paterno,  lost his first chance to publicly address questions regarding felony sex crimes against children, allegedly committed by former assistant coach Jerry Sandusky, when a scheduled news conference was abruptly canceled on Tuesday.
The New York Times reported that Paterno's tenure as coach at Penn State could soon end, perhaps within days or weeks, citing two people briefed on conversations among the university's top officials.
RELATED: How well do you know Penn State football?
The Times reported that the board of trustees has yet to determine the precise timing of Paterno's exit but that discussions about how to manage his departure have begun.
Paterno's son said his father has not been asked to leave as head coach. "No one has asked him to step down," Scott Paterno told reporters gathered outside the coach's home near campus.
The university canceled Paterno's scheduled news conference on Tuesday minutes before the the coach, one of the most famous in college football history, was due to face hundreds of reporters in the press room in the bowels of the 106,000-seat Beaver Stadium.
"Due to the ongoing legal circumstances centered around the recent allegations and charges, we have determined that today's press conference cannot be held and will not be rescheduled," the athletics department said in a statement.
The university had earlier said that Paterno would respond only to questions regarding football and the Nittany Lions' game on Saturday against the University of Nebraska.
A bright, sunny autumn day in State College, Pennsylvania, failed to mask the air of crisis that engulfs Paterno, the football program he has run for 45 years, and the entire university over the sexual abuse charges and associated coverup.
Paterno runs one of the most respected programs in college football, a hugely popular sport in the United States. The coach, nicknamed "JoePa," is known for graduating a high percentage of players but also sending many to the National Football League. His motto has been "Success with honor."
Penn State's longtime assistant football coach Jerry Sandusky, is alleged to have sexually abused eight young boys over more than a decade, both before and after his retirement from the team in 1999, with the knowledge of certain athletic department officials.
The alleged abuse by the defensive coordinator of boys as young as 10, both in his home and in the team's athletic facilities, was not reported to police even though it was known for years, authorities have said.
Sandusky, through attorney Joe Amendola, has denied the charges.
UNIVERSITY OFFICIALS CHARGED
In one of the incidents Sandusky, 67, is alleged to have forced a boy to have sex with him in the shower at the football complex in 2002.
Sandusky, allegedly recruited his victims from a charity he founded to help underprivileged children, called "The Second Mile."
Two former university officials -- athletic director Tim Curley and finance official Gary Schultz -- were charged on Monday with failing to alert police after they learned of the alleged abuse, as well as perjury in their statements to a grand jury.
Lawyers for Curley and Schultz told reporters on Monday that their clients denied the charges.
Paterno, who is not a target of the investigation, said he was informed of an incident involving Sandusky in 2002 and passed the information up the chain of command, to the university's athletic director.
But Paterno, the winningest coach in big-time college football and whose teams have won two national championships, has been criticized for not following up or doing more to address the allegations.
"If true, the nature and amount of charges made are very shocking to me," Paterno said in a statement on Sunday. "I did what I was supposed to do with the one charge brought to my attention."
Preparing for Saturday's Penn State game against Nebraska it was business as usual in "Paternoville," a tent city outside Beaver Stadium where students have for years camped out to get the best seats to Nittany Lions home games.
Despite the gloom that has descended over Happy Valley, as State College is often called, many kept the faith. "He's a god. I think Joe's a pretty genuine guy. I find it hard to believe that he knew pertinent information," said James Swanson, a 21-year-old Penn State student. (Reporting by Ian Simpson, Edith Honan and Kristina Cooke, writing by Greg McCune and Ros Krasny; Editing by Eric Beech)
 Pressure mounted on Tuesday on Penn State University football coach Joe Paterno, one of the biggest names in American sports, in a scandal over allegations that a long-time assistant coach sexually abused boys and school officials covered it up.