Mushers, dogs line up for Alaska's Iditarod race
The world's most famous sled dog race kicks off Saturday with an 11-mile trot through Alaska's largest city. The real competition begins Sunday 50 miles to the north, finishing in Nome.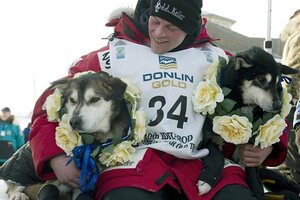 Marc Lester/Anchorage Daily News/AP
The world's most famous sled dog race kicks off Saturday with an 11-mile-long trot through Alaska's largest city.
Think of the short jaunt in Anchorage as the festival part of the Iditarod Trail Sled Dog Race. This is the time relaxed mushers will smile and pose for photos, waving at crowds as they leisurely sail along streets covered with trucked-in snow.
But watch out for Sunday, when the real competition begins in Willow, 50 miles to the north.
Gone will be the big easy grins as tense mushers and their leaping dogs begin the 1,000-mile trek through unpredictable wilderness to the old gold rush town of Nome on Alaska's western coast. Along the way, the teams will climb mountains, cross forests and gorges and frozen rivers. They'll sign in at village checkpoints. They'll face blizzards and brutal winds and temperatures that can plummet to 50 below. Some of the 66 teams starting the race will scratch from the running far from the finish line.
Contenders can't wait to get to the trail.
"As far as I'm concerned, the weather is one of the easiest things because it's the one thing I have no control over whatsoever," said defending champion Dallas Seavey, 25, the youngest Iditarod winner ever. "My job as a musher is to train a team and train myself to work with whatever conditions Mother Nature throws at us, and the worse it is, the better we do."
The Willow musher is among six past Iditarod winners, including his father, Mitch Seavey, in the 41st running of the race. Dallas Seavey also is among six past winners of the 1,000-mile Yukon Quest International Sled Dog Race, held just weeks before the Iditarod.
Lance Mackey of Fairbanks is the only musher to win both races the same year —accomplishing dual championships not once, but two years in a row. Mackey has won both races four times and was hoping for a comeback to his last Iditarod championship in 2010.
But the 42-year-old musher said he doesn't expect a good run after having just scratched in the Quest in February because of a team of ailing veteran dogs. His Iditarod team consists mostly of a bunch of puppies — his words.
The only reason he's going through with the race is because he has a film crew following him for a documentary, he said.
"I fully expected this year to be the year to fully redeem myself, with the best team I ever had," he said. "And they got sick on me."
Mackey, however, has been known to talk like that even during his championship races, so longtime fans know not to count him out of the running.
Whoever reaches Nome first wins a new truck and a cash prize of $50,400. The rest of the $600,000 purse will be split between the next 29 mushers to cross the finish line.
Unseasonably warm weather earlier this year complicated training for mushers in some areas, but Iditarod officials never worried it would affect the race.
Now, there is plenty of snow along the trail, even too much during one stretch, race marshal Mark Nordman said this week. High winds knocked trees over in another section, but trail breakers have been building bridges there.
"So far, we're set to go," Nordman said.