How did Stephen Colbert lure Bill Clinton to Twitter?
On the set of 'The Colbert Report,' former President Bill Clinton sent his first tweet, dictated by President Clinton to Mr. Colbert, and using the name PrezBillyJeff.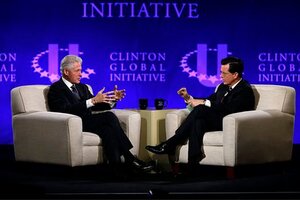 Jeff Roberson / AP
Bill Clinton is now on Twitter, albeit without a very presidential name, and with a little help from his self-styled "BFF," Stephen Colbert.
Mr. Colbert lured the former president to the social networking site on "The Colbert Report" on Monday, signing him up with the handle PrezBillyJeff. President Clinton dictated his first message to Colbert, who typed: "Just spent an amazing time with Colbert! Is he sane? He is cool!"
Whether Mr. Clinton would continue to use the account is uncertain.
Colbert's hand is clearly in the account's bio, too. It reads: "Stephen Colbert is my BFF."
By Tuesday morning, the account had amassed nearly 50,000 followers and was climbing fast.
Colbert interviewed Clinton not in his New York studio, but at the annual Clinton Global Initiative University gathering in St. Louis. The interview had been taped on Saturday.