Spitzer comeback: Nominating signatures may be challenged
Five years after Eliot Spitzer stepped down from his role as New York's governor, he is attempting to return to politics. He presented the New York City Board of Elections with 27,000 signatures in his effort to enter the city's race for comptroller on Thursday evening.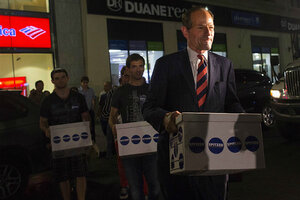 REUTERS/Eric Thayer
Former New York Gov. Eliot Spitzer, who resigned amid a prostitution scandal in 2008, has met the deadline to file thousands of petition signatures for his bid to revive his political career by running for New York City comptroller.
Spitzer said that "over 27,000 signatures" were submitted to the city Board of Elections just after 10:30 p.m. Thursday, ahead of a midnight deadline. It came just four days after the tarnished ex-governor launched his campaign.
Spitzer needs 3,750 valid petition signatures to get on the Democratic primary ballot for September.
The filing may not be the last word. Spitzer's opponents or others could challenge signatures for reasons such as incomplete addresses or missing dates.
If that happens, elections officials will have to review the objections, hold a hearing late this month and decide whether the signatures qualify. The matter could ultimately go to court.
Spitzer startled the political establishment and shook up what had been a tame comptroller's race by jumping into it, a decision he says he just made over the weekend.
Candidates were allowed to start petitioning in early June, and many did. Campaigns generally gather two to three times as many signatures as needed, in case some are challenged as having incomplete addresses, missing dates or other flaws.
Associated Press writer Ula Ilnytzky contributed to this report. Follow Jennifer Peltz at http://twitter.com/jennpeltz