Ohio flash flooding: Heavy rains shut down two interstates in western Ohio
Ohio flash flooding: Interstate 70 was so badly flooded that some drivers walked away from their cars while others turned around and drove the wrong way down the highway to find another route.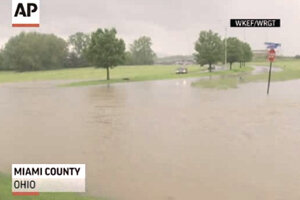 Heavy rain led to flash flooding in western Ohio that shut down parts of the two interstate highways and other roads throughout the region.
Storms that moved through the Dayton area Wednesday evening closed parts of Interstate 70 and Interstate 75 for hours. The flooded highways trapped motorists in their cars and kept emergency crews busy into the early hours of Thursday.
WHIO-TV in Dayton says Ohio Department of Transportation traffic cameras showed frustrated drivers turning around and driving in the wrong direction on Interstate 70 to find another route. Other motorists could be seen leaving their cars and walking on the highway.
Fire officials said a swollen creek that spilled over a retaining wall caused the I-70 flooding.
Rain was expected to move out of the state later Thursday.
Copyright 2014 The Associated Press. All rights reserved. This material may not be published, broadcast, rewritten or redistributed.