Dakota Meyer and nine others: what they did to receive the Medal of Honor
Dakota Meyer among soldiers who distinguished themselves: For going above and beyond the call of duty, Marine Sgt. Dakota Meyer was awarded Thursday the Medal of Honor, the US government's highest military decoration. He joins nine other distinguished soldiers who received the award for service in the Iraq or Afghanistan wars. Take a look at these men who risked their lives to protect America.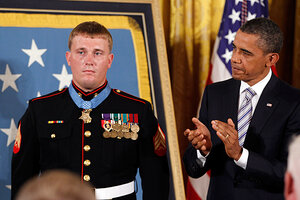 Charles Dharapak/AP
1.

Marine Sgt. Dakota Meyer

Marine Sgt. Dakota Meyer was awarded the Medal of Honor for his attempts to locate and rescue missing comrades despite hostile fire in Ganjgal, Afghanistan. Rather than stay at a relatively safe distance from the intense firefight as he had been ordered, the then-21-year-old crossed battle lines and saved the lives of 36 US and Afghan troops pinned down during a Taliban ambush in September 2009.

President Obama presented Meyer with the award during a ceremony Thursday at the White House. "You did your duty, above and beyond, and you kept the faith with the highest traditions of the Marine Corps that you love," Mr. Obama said. "Because of your courage, your fallen American heroes came home."

Meyer is the third living recipient of the Medal of Honor for actions in the wars in Iraq or Afghanistan.