Drone warfare: top 3 reasons it could be dangerous for US
Is the Central Intelligence Agency's drone warfare campaign – secretly ordered targeted killings in countries like Pakistan, Yemen, and Somalia – making America safer? A spate of new reports finds that while the drone strikes may take out high-level terrorists, they create grave risks for the United States, too. They also raise questions, analysts say, including: Are Americans entitled to know about the secret wars that their government is waging on their behalf?
Here are the top three dangers of drone warfare to America, according to the new studies.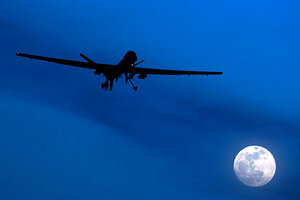 Kirsty Wigglesworth/AP/File
1.

Copy-cat attacks

The rules for drone killings by the US military in a declared war like Afghanistan are clear, with strict guidelines in place. But when the CIA is using drones for covert purposes in places like Pakistan, Yemen, and Somalia, the extent of the oversight is far less clear.

"There's a big difference when you're using a drone in a full-scale military operation. Then it's just a weapon," says Sarah Holewinski, executive director of the Center for Civilians in Conflict at Columbia Law School in New York, which produced a report this week, "The Civilian Impact of Drones: Unexamined Costs, Unanswered Questions." "You've got boots on the ground and intel from soldiers out in the field."

But the secrecy of CIA operations means that they do not get scrutinized under any international law, and other countries could argue that they are entitled to use armed drones at will, too.

That means the US could be vulnerable to attacks from enemies who argue that, since the CIA is carrying out such attacks, CIA headquarters in Langley, Va., is also a legitimate military target, some analysts argue.

In the short term, it is more likely that the secrecy around CIA drone policies could cause other nation states to use the technology as they see fit as well – and spark some major international relations meltdowns.

India, for example, has recently purchased armed drones. Might it now begin using them in neighboring Pakistan for its own military purposes, arguing that if the United States does it, why shouldn't others? With two nuclear-armed states, the consequences could be dire.

"India isn't going to want the US to say, 'No no, you can't use these in Pakistan, just because we did,' " Ms. Holewinski says. "There's going to be a really tough argument for the US to make for how other nations use these drones."