From marijuana to 'sexting': new laws set to take effect Jan. 1
In all, 45 states, the District of Columbia, Virgin Islands, and Puerto Rico passed 31,005 new laws in 2010. Some of them will come into effect with the new year. Here is a sampling of some of the trends in lawmaking in 2010.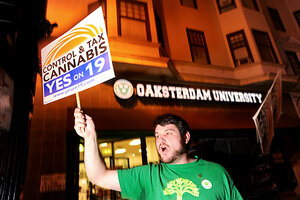 Noah Berger/AP/file
1.

Marijuana

Starting Saturday, people caught in California with as much as an ounce of marijuana will be charged with an "infraction" – a penalty that is equivalent to a parking ticket. Previously, possession of an ounce of marijuana had been a misdemeanor, which unlike an infraction, can include jail time.

Meanwhile, in Illinois, synthetic marijuana, also known as K2, will be illegal.