Ron Paul vs. the Federal Reserve: four epic moments
Rep. Ron Paul (R) of Texas hasn't been the only one to question whether the Federal Reserve is a responsible steward of the nation's money supply. But he's been one of the most persistent and outspoken Fed critics, inside or outside of Congress. His warnings that Fed-backed inflation is debasing the dollar and destroying the wealth of Americans have prompted rebuttals from Fed chairmen, from Alan Greenspan in the 1990s to Ben Bernanke during and after the 2008 financial crisis. Here are some classic Ron Paul vs. the Fed moments.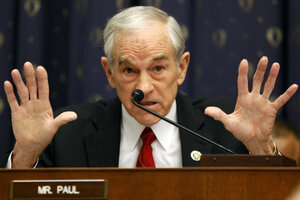 Richard Clement/Reuters/File
1.

Ron Paul's silver eagle moment

At a Feb. 29 hearing of the House Financial Services Committee, Congressman Paul brandished a silver eagle coin and let loose on Mr. Bernanke for, in effect, stealing the wealth of Americans by debasing the currency. In 2006, when Bernanke took over as chair, an ounce of silver bought about four gallons of gas, Paul said. Today it buys about 11. "The record of what you've done is destroy the currency," he added. When, at length, Bernanke got a chance to respond, he said: "First of all, nice to see you again."