Is Scott Walker running? 5 quick takes from Wisconsin governor's memoir
"Unintimidated: A Governor's Story and a Nation's Challenge," the new memoir by Wisconsin Gov. Scott Walker (R), is a nod to the recall election he won handily in June 2012. The victory gave Governor Walker plenty to crow about: After his controversial legislation to curb the collective bargaining power of public-sector unions, the state unemployment rate dropped to 6.7 percent, 23,000 jobs were created, and the state's pension funds are at a surplus.
Walker's book opens with an attack on President Obama, boosting speculation that the governor is looking to be on his party's presidential ticket in 2016. While acknowledging that the Republican Party has suffered setbacks, he credits recent wins by GOP governors in New Jersey, Indiana, and New Mexico as evidence the party needs to offer "big, bold, positive reforms that are relevant to the lives" of ordinary people. Among them: "improving education, caring for the poor, reforming government, lowering taxes, fixing entitlements, reducing dependency, and creating jobs." Sound like a candidate?
Here are five claims Walker uses in his book to make his case.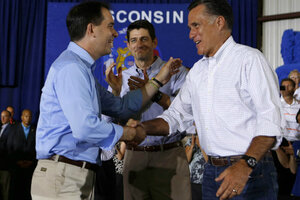 Larry Downing/Reuters/File
1.

Mitt Romney didn't resonate

Walker says that what doomed Mr. Romney's 2012 campaign for president was that he threw too much focus on President Obama's alleged failures and not enough on "a big, positive vision for the future." Walker writes that Romney failed to "get the message of Wisconsin," which he says was about keeping public-sector jobs intact, not slashing them. "Americans want leadership. And in times of crisis, they don't care if it is Democratic leadership or Republican leadership – they will stand with those who offer bold ideas and have the courage to take on the tough issues," he writes in his memoir.