Gun control advocates lose another round with departure of ATF chief
ATF Director B. Todd Jones resigned this week, under fire for attempting to ban armor-piercing bullets used in AR-15 assault-style weapons. It's another victory for gun-rights groups.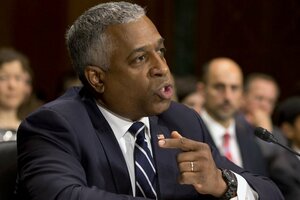 Jacquelyn Martin/AP
The federal Bureau of Alcohol, Tobacco, Firearms and Explosives (ATF) has never been a favorite with gun rights groups or their champions on Capitol Hill. To put it mildly.
The departure of ATF Director B. Todd Jones this week was "to pursue other opportunities in the private sector," as the official announcement declared – reportedly to a newly-created senior position with the National Football League (NFL).
But the real reason Mr. Jones' tenure at the controversial ATF finally came to an end had to do with an attempt to ban certain armor-piercing bullets used in AR-15 assault-style weapons. For the National Rifle Association (NRA) and other pro-gun groups, controlling ammunition is just as objectionable as regulating gun ownership.
"Make no mistake, that so called ammo ban, proposed by the ATF that they're now shelving is nothing more than a gun ban by another name," warns a video commentary on the NRA website. "It takes nothing more than a two-second Google search to hear quotes of President Obama wanting to ban all AR-15s. And because his administration couldn't get that ban through the front door of Congress, they tried to get it through the back door with this ammo ban."
The ammunition in question is the popular "M855 green tip" or "SS109" round with certain types of metal core projectiles. The rounds are commonly used in AR-15 rifles but can also be used in recent AR-15 handgun models.
When the ATF proposed a ban on such ammo, the reaction was swift and largely negative. Most of the more than 310,000 public comments about the proposal were critical of the plan, and nearly 300 members of Congress – majorities in both the House and Senate – also complained in letters to Jones. The effort was abandoned earlier this month.
Jones' departure was applauded by the chairman of the House Judiciary Committee, Rep. Bob Goodlatte. The Virginia Republican has been critical of the agency's management and was among those lawmakers who objected to the ammunition rule change.
"It is clear the ATF needs a change in leadership to repair its tarnished image," Rep. Goodlatte said.
Although some Democrats sided with Republicans in publicly opposing the ammunition ban, others faulted Jones for mishandling the issue.
"This was sloppily handled and as a result the outcome was surprising, disappointing and even confusing," Rep. Steve Israel, (D) of New York, told The Hill newspaper. "I hope under the new leadership the ATF can have a more transparent and responsive process."
Rep. Israel and several other Democrats are backing legislation that would prohibit all forms of armor-piercing ammunition, including the type of bullets the ATF had proposed to ban, according to The Hill. Meanwhile, Rep. Jim Sensenbrenner, (R) of Wisconsin, is using Jones' resignation as a platform to push legislation that would eliminate the ATF altogether.
Jones was the ATF's first Senate-confirmed director in seven years. He also is a former US Attorney in Minnesota, corporate lawyer, and Marine Corps officer.
His job at ATF was going to be a tough one from the beginning. The agency had already come under fierce political fire for the failed "Operation Fast and Furious" that tried to track weapons but ended up with some US-funded guns in the hands of Mexican drug cartels.
At the same time, public attitudes in the wake of terrorist attacks, school shootings, and the impression that President Obama had a strong interest in regulating privately-owned firearms did little to advance the cause of stricter gun control
By a margin of 52 percent to 46 percent, Americans say protecting the rights of gun owners is more important than gun control, according to a survey by the Pew Research Center released in December. The survey, which came just two years after the massacre at Sandy Hook Elementary School in Newtown, Conn., was the first time Pew found more support for gun ownership than gun control in more than two decades of surveys on the issue.
This report includes material from the Associated Press.